12/14/2018
What is the vegetable oil refining process?
Process Description of Vegetable Oil Refining is as follows.
Water Degumming :
Water Degumming is first step in the Edible Oil Refinery Process. Oils contains Hydratable Phosphatide which absorb the water, that Hydratable Phosphatides are oil- insoluble which easily separated by centrifuge.
Water Degummed Gums are further process to convert into Lecithin and it is much demanded product in the market.
Alkali Refining :
Next step in Edible Oil Refinery is the is the traditional method used in past centuries and widely practiced form of refining method by treatment of the fats and oils with an alkali solution. The free fatty acid are converted into water soluble soaps which are removed by separators. Phospholipids, carbohydrates and proteins additionally can be changed to water soluble substances with hydration. When the Alkali Refining treatment, the fats and oils area unit washed with water to get rid of residual water soluble soaps after that oil passes in vacuum Dryer to remove Moisture.
Bleaching :
Next step in Edible Oil Refinery is the OIL received from previous stages contains traces of soap, iron and few ppm of Phospholipids and Carotenes, these contents area unit undesirable and needed to be removed in Bleaching Operation,  leaching Plant includes Steam Agitated Bleacher comprises of an acid treatment, a separate oil and earth compounding device with mechanical mixer (this arrangement ensures no carryover of bleaching earth into vacuum system), main bleaching vessel and Hermetic filters.
Bleaching Process Flow Diagram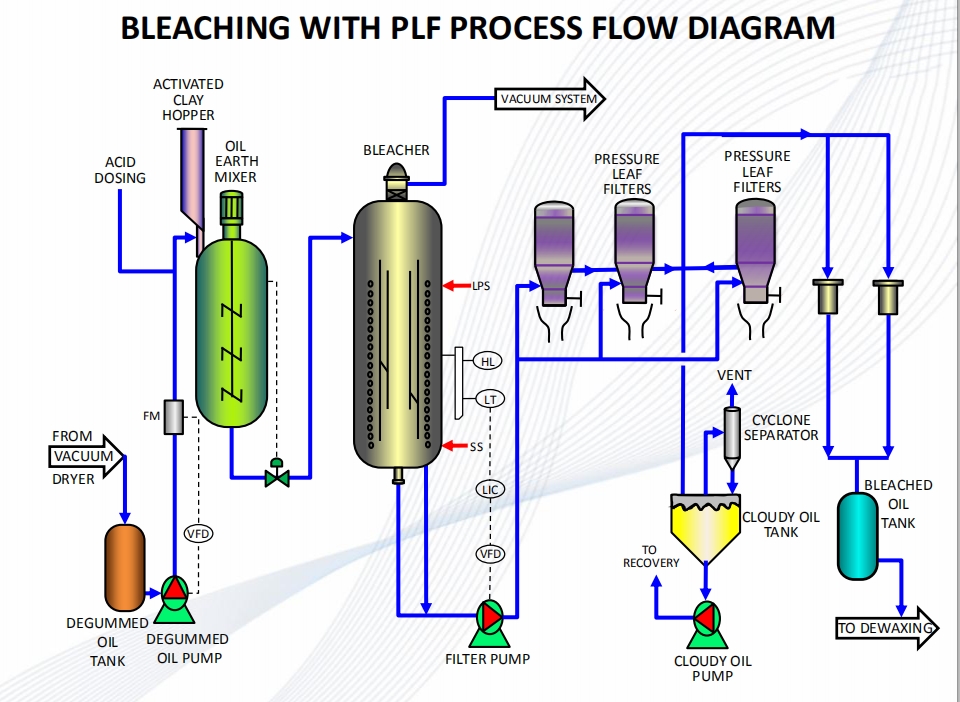 De-Waxing / Winterization :
Next step in Edible Oil Refinery is A very easy demand of this method is to clear, good refined oil to satisfy bound specifications of cloud point.
We offers an ideal and extremely Effective Crystallization and Filtration Method. It's composed of Homogenizer, Crystallizer and self filter instrumentation with sequence cooling system.
We have developed an ideal dynamic coil Designed Crystallizer for Guaranteed 100% Uniform Cooling especially for Rice Bran Oil, Sunflower Oil & Cottonseed Oil and is already in operation with our valued consumer for highest quality of product. We tend to conjointly provide low budget crystallizer.
Self improvement filter instrumentation is also a modern style, having the ability of Maintaining Filtration Temperature and isn't laid low with close Temperature.
We area unit one in every of the foremost leading manufacturer and provider in India in the field of De-waxing Plants,Winterization Plant, self-cleaning filter equipment and dynamic coil designed crystallizer for uniform cooling.
Dewaxing Process Flow Diagram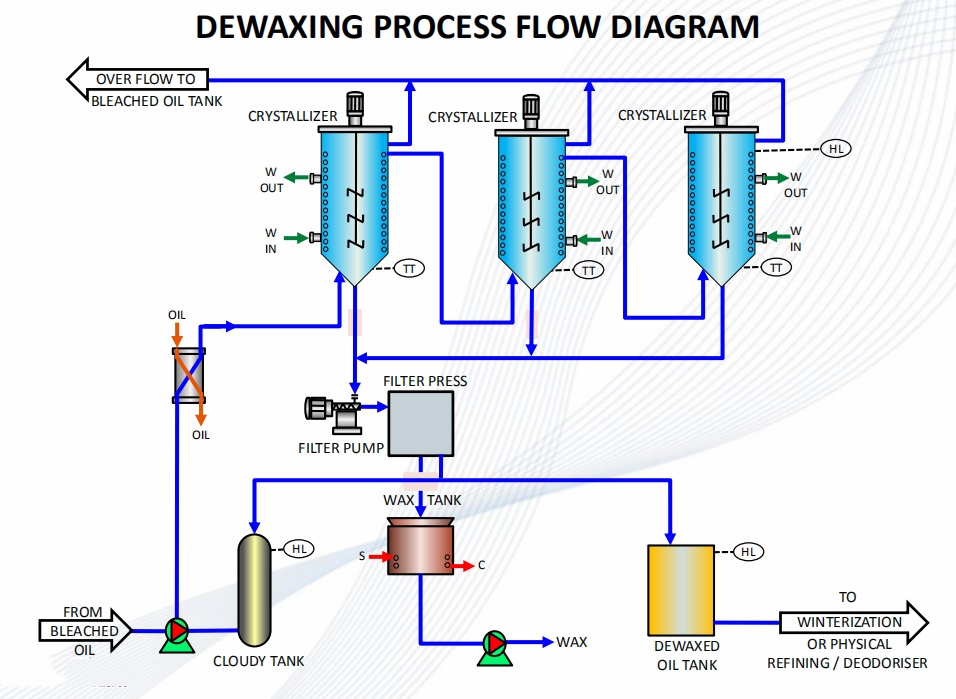 Winterization Process Flow Diagram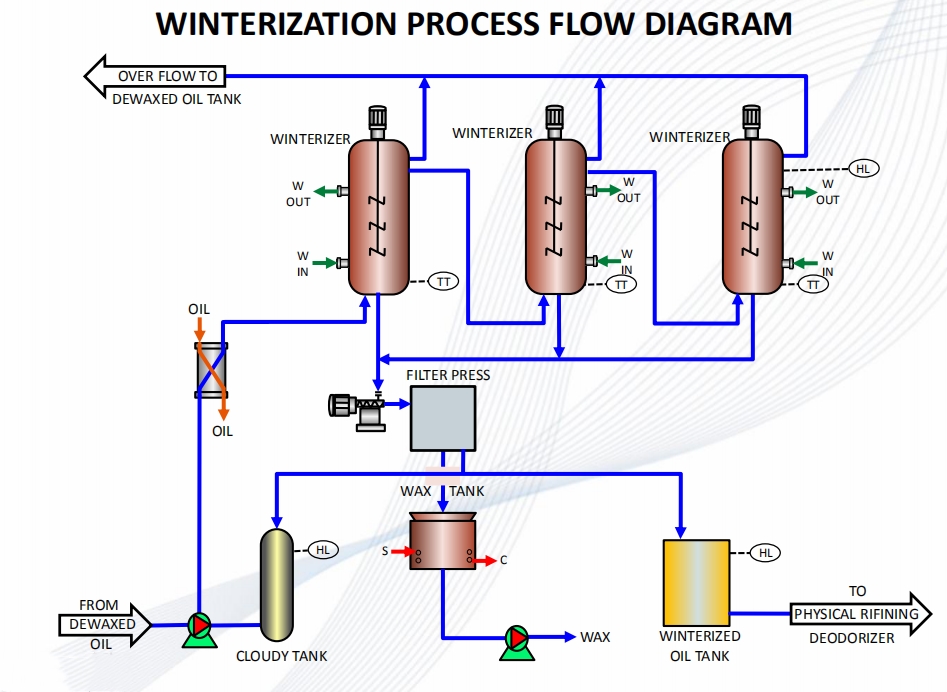 Deodorization :
Next step in Edible Oil Refinery is the Deodorization Plant. We are leading manufacturer of oil Deodorization Plant which is best for Soybean Oil Refining, Sunflower Oil Refining, Cottonseed Oil Refining, Rice Bran Oil Refining, Mustard Oil Refining etc.
Deodorization process is used to remove unacceptable odour by steam distillation the odoriferous compound area unit strip off with the assistance of live injected steam into heated oil under high vacuum.
Physical Refining :
Next step in Edible Oil Refinery is the Physical Refining method is employed to get rid of free fatty acid using Steam Distillation technique at warm temperature and under high vacuum and it is followed by Deodorization and an extra technical facility is else before deodorization for removal of free fatty acid.
Physical Refining Process Flow Diagram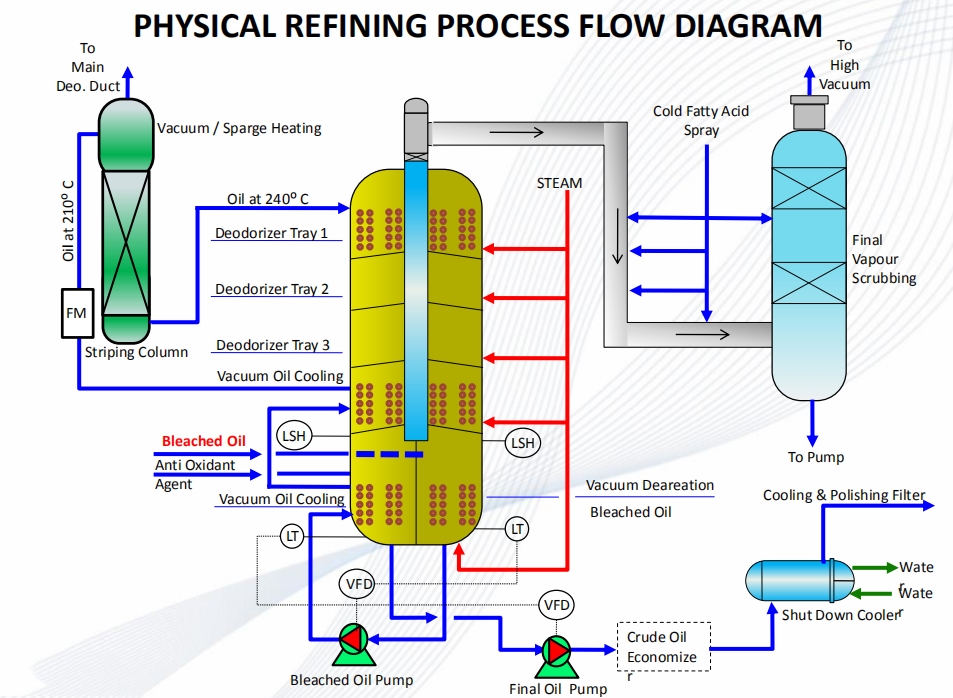 Fractionation :
Next step in Edible Oil Refinery is the Fractionation Plant is specialized to supply provide a low operating cost fractionation plant, which provides high Olein/soft Stearin yields at established management. We offer PLC (automation) for efficient working and reliability of the fractionation plant.
The separation of stearin & olein is continuously done on rotary vacuum drum filter / plate and frame filter and its principle is easy, whereas crystallization method involves an executive technique to develop and grow the particles size for simple & swish separation of stearin & olein.Our technique ensures you a perfect technology.
Acid Oil Plant :
Next step in Edible Oil Refinery is the Acid Oil Plant. We has designed an Environmental Friendly process for Acid Oil Plant and acid oil obtain from soap stock which coming from Alkali Refining of Oils and Fats etc. Soap Stock contain wash water, Bad quality of recovered oil. Soap Stock is pumped through screw pump to the Acid reactor for splitting. Soap stock charge in reactor and boiled in terms drying with steam heating cum agitation coil. After removing maximum Moisture pre calculated amount of acid (H2SO4) or HCL is added slowly. Splitting is done underneath continuous observation thus on maintain applicable acid value of final product to avoid excess acid consumption.
Application: Vegetable Oil, Palm Oil, Sunflower Oil, Cottonseed Oil, Soybean Oil, Groundnut Oil, Ricebran Oil & Mustard Oil.