Tea seed oil refining:
Most of the mountainous area village grew large quantity of tea seed,most of the tea seeds will be processed near the plantation,tea seed oil mainly use the alkali refining method,it can not only get the deacidification and remove the impurities but also can remove some pigment and odor, and finally can achieve the edible oil requirement.
The tea seed oil reining main equipment is :crude oil holding tank,alkali refining and neutralization tank,washing tank,filter machine,as well as the soapstock separating and delivery pump,alkali liquid pool.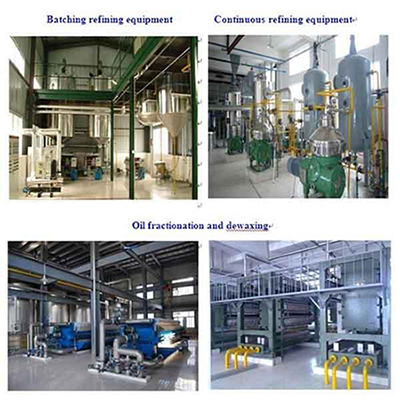 Soybean oil refinery equipment machine processes:
1.Decolour tank is for bleaching grease.
2.Deodorizing tank is for deodorizing grease(stainless steel).
3.Conducting oil furnace provide thermal enery need for production, the temperature reach to 280degree.
4.Vacuum pump provides vacuum for bleaching, deodorization which can reach 755mmHg or more;
5.Air compreassor can dry the bleached clay
6.Air press is for filter clay
7.Steam generator can generate steam distillation required.
8.This kind of oil refining equipment make the oil reach the standard level national edible oil.
Soybean oil refinery equipment machine flow chart
Main parts:
de-mixed,degumming,dehydration,deacidification,decolorzation,dewaxing and deodorization.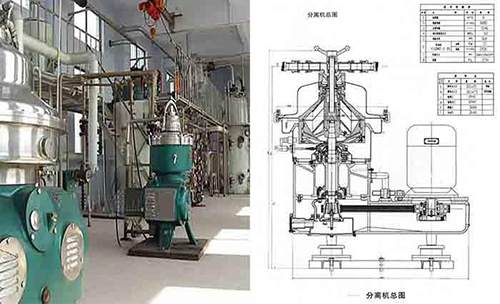 Soybean oil refinery equipment machine:
Decoloration tower, deodorization tower, leaf filter, frame filter, four- steam jet pump,water jet pump, Conducting oil furnace
Soybean oil refinery equipment machine characters:
a.Safety:
1. we using auto welding machine to make the reactor,which can quarrantee the quality of welding seam,avoid cracking and has a long life for about 8 years.
2.professional heating treatment and x-ray detection chamber for welding seam.
3.vacuum system to prevent oil gas be back to reactor causing accident.
4.with professional thermometer, professional pressure gauge and safety valve.
b.Environment friendly:
1.dedusting system to prevent gas and dust from coal burning
2.the exhaust gas will be recycled for heating reactor,no gas pollution
3.well sealing on every junction parts to prevent gas leak,no smelly
c.Longer life:
Using Q345R special steel plate,welding seam with auto welding an will get heating treatment and x-ray detection to extend the life of reactor to the most extend, and the life will 8 years
d.Energy saving:
1.well sealing for heating system ,no gas leak and saving fuel.
2.the exhaust gas will be recycled for reactor heating