National patent technology of rice bran oil refining machine makes innovation on traditional rice bran oil refining process, acquiring deep acknowledgement of impurity removal, degumming, dehydration, deacidfication, dewaxing and deodorization etc.
Features of rice bran oil refining production line:
● Users oriented oil machine design and technology. Engineers of rice bran oil project make clear analysis of specialty of rice bran oils and users' final requirement before designing of process flow for rice bran refinery.
● Reliable and technology advanced rice bran oil refining design. We adopts advanced modern rice bran oil refining technology, precise and durable material manufacturing equipment combined with high standard products, assuring perfect production line of rice bran
oil refinery machine
with reliable quality and performance.
● Automatic control and precise design. Rice bran refining machine with prominent features of automatic control and precise equipment design as well as advanced refining technology of rice bran oil, allowing different type of refining requirement for customers worldwide.
● Multiple oilseeds refining applicable. This rice bran refining machines production line is applicable for
refining of soybean oil
, rapeseed oil, cottonseed oil, sunflower oil, peanut oil, rice bran oil, safflower oil, corn germ oil, camellia seed etc.
Process Flow chart of Rice Bran Oil Refining Production Line: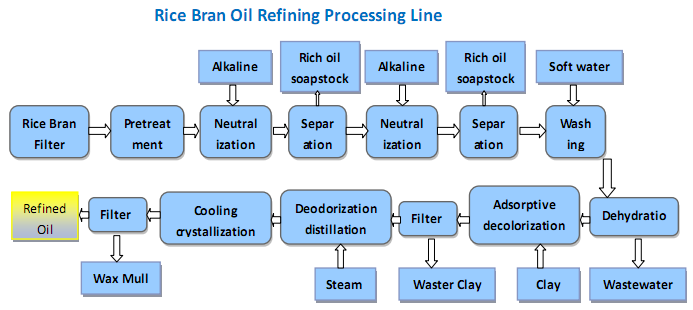 Brief introduction for the equipment:

A. Refining pot: also named Dephosphorization and deacidification tank, under 60-70℃, it occurs acid-base neutralization reaction with sodium hydroxide. After stirring by reduction box,it can decrease the acid value in oil and separate the impurity, phospholipid which will enter into soap stock. The oil can be refined further.
B. Bleaching pot (decoloring pot): Also named bleaching and dewatering pot, it removes water from oil by vacuum. The bleaching earth is breathed into bleaching pot, after stirring,filtrated by filter and change the color of the oil.
C. Vertical blade filter machine: Equipped with vertical leaf filter to remove used bentonite from the oil, operating conveniently and continuously, low laboring tense, keeps environment well, keeps oil residence in deposable bleaching earth in low level.
D. Deodorization pot:It uses USU 304 stainless steel plate, under the vacuum condition of vacuum and high temperature (220-240℃), The deodorization system can remove fatty acid and other rare delicacy high efficiently .make Meanwhile, the pot has the advantage of lowering steam consuming and avoid of the hydrolyzation of oil.
Major equipment: degumming tank, neutralizing tank, centrifuge, heat exchanger, decolorization tower, filter, dedorization tower
Application: high efficiency oil refining processing line from crude rice bran oil
We assure the most precise design, high quality Rice Bran Oil Refining Plant, mature project installation, and perfect after sale services.