Palm oil fractionation technology adopts advanced palm oil processing technology of controlled cooling, crystallization, filtration and separation technology, obtaining palm oil with different melting points, like 33℃, 24℃, 18℃, 14 ℃,12℃,10℃,8℃,etc. This featured palm
oil fractionation machine
with fully computerized automation is featured by low investment, high liquid oil yield, high purity of solid fat, high profit etc.
Working principle of palm oil fractionation technology:
Palm oil is composed of triglycerides with a variety of melting points, which results in different melting point range of palm oil. Palm oil is divided into solid part and liquid part through utilizing different welding points and different solutions of various triglycerides composing oil.
On basis of difference of triglyceride properties, it creates related crystallization conditions so as to crystallize and separate from original solution with high purity. This process is called palm oil fractionation.
The liquid fraction (Olein) is used extensively as a liquid cooking palm oil in tropical climates. The liquid palm oil has competitive price with the more expensive groundnut, corn and sunflower oils.
Flow chart of palm oil fractionation processing line: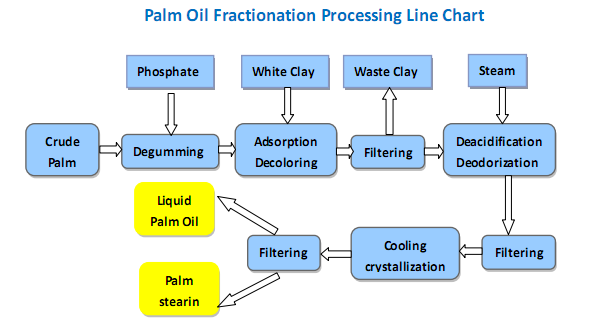 Refined palm oil should go through fractionation process to separate solid phases (Stearine) and liquid phases (Olein). It is achieved by thermo-mechanical means. Fractionation can greatly maximize the value of products.The typical fractionation process of palm oil mill is controlled cooling, crystallization, and filtering. The liquid fraction, which is also known as olein is getting more and more popular as liquid cooking oil especially in tropical climates, competing successfully with expensive sunflower, corn, groundnut oils.
Palm Oil Fractionation Plant
Palm oil fractionation plant has three fractions: stearin (palm stearine), soft fat (palm olein) and middle section (palm mid-fraction). After palm oil fractionation, palm oil will be clean after 5.5 hours in 0℃ to ensure it can keep flow ability and transparency in the refrigerator and improve the quality and appearance of palm oil.


Palm Oil Fractionation Plant Projects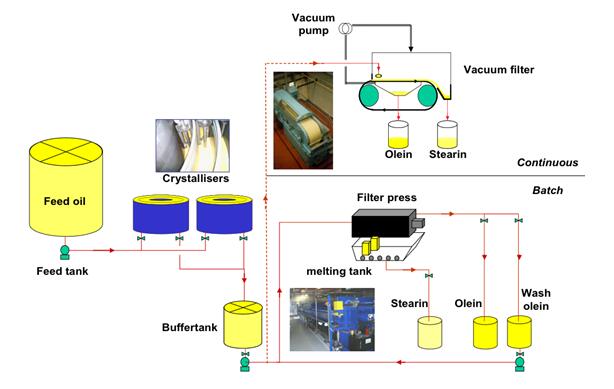 Fractionation Plant Assembly
Our palm oil fractionation technology and machinery is based on a fully continuous and automatic system without adding any solvent or chemical, ensuring premium quality of oil products. The oil is cooled slowly to a certain degree in dissolved state, passing through plate filter to separate crystals and precipitate solid ester. Our palm oil fractionation plant is your best choice to produce stable palm oil olein and stearine products that fits your standard and quality requirements.
Features of Our Fractionation System
• Simple process;
• Easy and convenient operation;
• No environmental pollution;
• Low consumption of steam;
• Reasonable price;
• Satisfied palm oil fractionation results;
Typical Fractionation Process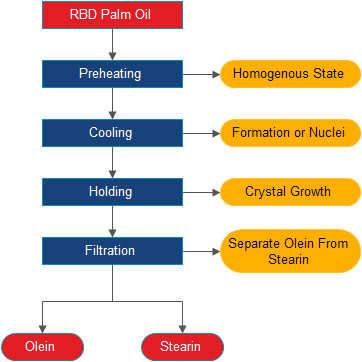 • Heat treatment;
• Form crystal nuclei and allow crystal growth and maturity by cooling method;
• Separates soft fat from solid by plate filtering machine;
One time fractionation is enough in most cases. However, for some relatively high demand industry of stearin, confectionery industry for example, twice palm oil fractionation is suggested.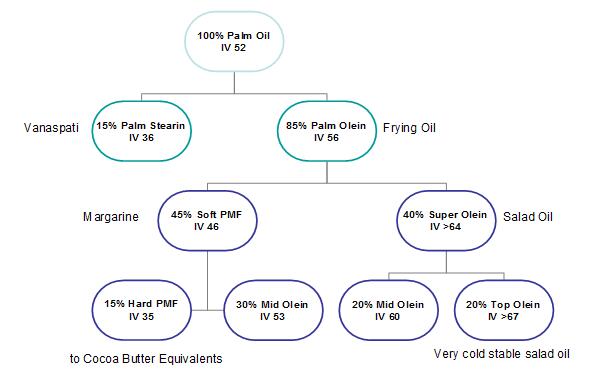 Factors Affecting Fractionation of Palm Oil
•
Control of Cooling Water Temperature;
•
Filling and Squeezing pressure;
•
Filter cloth air permeability (400, 600 L/dm2/min);
•
Design of crystallizers;
Major equipment: crystal jar, water-cooled screw chillers, membrane filter press
Application: new type oil fractionation technology applicable for palm oil, cottonseed oil, peanut oil, fish oil, chicken oil, algal oil, linseed oil
We assure the most precise design, high quality Palm Oil Fractionation Machine, mature project installation, and perfect after sale services.