Processing flow of sterilization station during palm oil processing machine:
Rail car brings raw material from reception station into the sterilization tank. Open steam system to make high temperature sterilization to kill the yeast in raw material, destroys esterase activity, then send to the next station of threshing station.
Recover condensate in sterilization tank, discharge subsequent section of the slag pit. The special silencer system design of sterilization tank vapor emission can reduce noise pollution.
The sterilization or cooking station of palm oil mill is a process to loose fruit by use of high-temperature wet-heat treatment.The difference between cooking and sterilization is that cooking uses hot water whereas sterilization involves the use of pressurized steam.
Main Equipment: Fruit Cage, Horizontal Sterilizer and Tippler.

Sterilizing Station Of Palm Oil Milling Factory
Palm oil is generally processed by sterilization. The sterilization process serves the following processes. As a kind of improtant palm oil machine, palm oil sterilizer (sterilizing machinery) serves the following purposes.
Purpose of Palm Oil Sterilizing Process
• The heat treatment helps destroy oil-splitting enzymes and seizes hydrolysis and autoxidation.
• In large scale palm oil mill plant, where the fresh fruit bunches (FFBs) need to be cooked whole, the steam weakens the stem of the fruit and reduces the effort required to get the fruit from the bunch with mere tumbling in the threshing machine or shaking.
• The heat is very important since it assists in solidifying proteins that contain the oil-bearing cells that are microscopically dispersed in it. This process of protein solidification/coagulation enables the oil bearing cells to collect together and flow with much ease when pressure is exerted.
• Further, the fruit is subjected to cooking to weaken the pulp structure, make it soft and easy to remove the fibrous material and its components during the process of digestion. High heat is recommended to partially disband the oil containing cells found in the mesocarp and further allows the oil to flow more readily. This stage of processing is very important.
• During sterilization, the moisture produced by the steam helps to chemically disintegrate the gums and resins. If this is not done, the resins and gum will cause foam during frying. Since part of the resins and gums are soluble in water, you can choose to apply wet steam to dissolve them in water such that they can be easily removed during clarification. Even the starch contained in the fruit can be hydrolyzed and removed in the same way.
• High-pressure steam is recommended for sterilization to cause the (warm air) moisture in the nuts to expand. Reducing the pressure causes contraction of the nuts and detachment of the kernels within their shells.
• After detaching the kernel from its shell wall, the nut cracking operation then begins. This clearly demonstrates that sterilization is therefore the most important process here. It is a pre-requisite for the success of all other palm oil processing processes.
• On high-pressure steam heating, the sterilization systems causes the bunches to loosen the fruits. This is critical because it helps the palm fruit bunches loose less water during the process.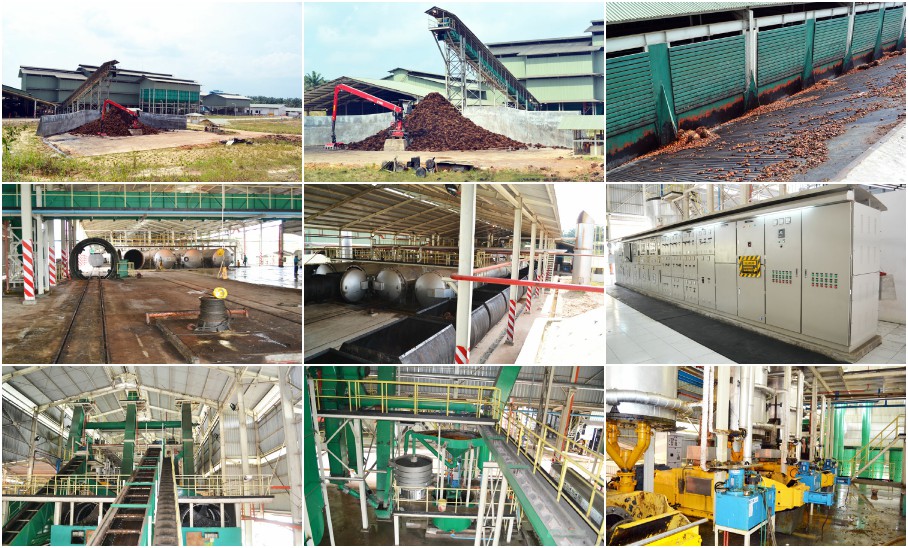 It is very important to ensure that air in the sterilizer is evacuated before the process of sterilization begins. The air may act as a blocker to heat transfer and again most likely to increase oxidation particularly at high temperatures. Note that oxidation risks is common during high temperature sterilization whereas over-oxidation may as well cause poor or partial bleach ability of the end product (oil). Sterilization is undoubtedly the main cause of the discolouration of palm kernels resulting to poor bleach ability of the extracted oil and no doubt, the cause of reduction in the protein value of the oil press cake.
Build an Automatic Palm Oil Pressing Line
We can offer all kinds of palm oil machine including sterilizer, digester, stripper, screw oil pressing machinery, palm oil filter machine. We also undertake turnkey solutions for premium large scale palm oil pressing line. As a professinal and reliable palm oil machinery manufacturer and supplier in China with decades of experience, we can offer all-around services from palm oil mill plant designing, process customizing, palm oil machinery manfuacturing, on-site debugging and installing.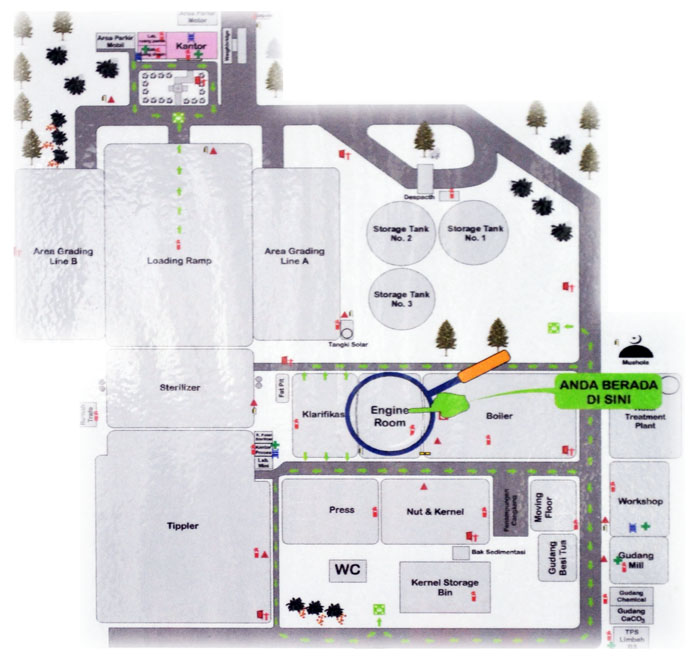 Palm Oil Mill Plant Design
Alll the projects we build for our customers are designed depanding on their specific situation, requirements and cost budget. If you are keen in buying palm oil machines or building a palm oil mill plant, don't hesitate to inquiry about the details or cost! We are always at your service 7x24 hours!
The equipment list of sterilization station:
1.Vertical Steriliser c/w Hydraulic System
2.Steriliser Service Platform
3.Blow-off Silencer&Blow Down Chamber
4.Condensate Pit c/w 2 units Pump
5.Sterilizer Control System
6.SFB Incline Scraper Conveyor
7.SFB Distributing Scraper Conveyor
Palm oil processing gathering palm oil making, palm oil refining, and palm oil fractionation processing lines, ensures high efficiency and high oil yield of edible palm oil.
● Palm oil pressing machine provides high oil yield crude palm oil making from palm fruit and palm kernel.
● Palm oil refining machine enables high quality edible vegetable oil refining processing from crude palm oil efficiently.
● Palm oil fractionation technology divides palm oil into liquid and solid oil by different welding points and different solution of various triglycerides composing oil.
We assure the most precise design, high quality Palm Bunch Sterilization Station Machine, mature project installation, and perfect after sale services.