Palm oil refining technology refers to conversion of crude palm oil to refined oil involves removal of products of hydrolysis and oxidation, color and flavor. Adopts scientific designed palm
oil refining machine
process line including degumming, deacidification, decolorization, blenching, deodorization to obtain high quality refined palm oil.
General introduction of palm oil refining processing line:
● Physical deacidification assures low consumption. Palm oil refinery adopts physical deacidificaiton process with high vacuum processing of fatty acids. It enables low palm oil loss in operation.
● High efficiency blenching. The addition of 90℃ phosphate and special rocky soil fulfill perfect decolorization of palm oil with high oil purity and brightness.
● Deodorization and blenching achieves final refined palm oil. Deodorization tank removes odor under heating and vacuum steam with vacuum pump. The blenching process finally gets refined palm oil with temperature of 33℃.
Process Flow chart: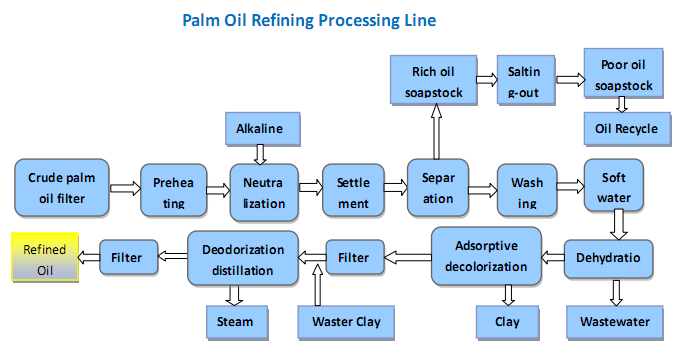 Crude Palm Oil (CPO) is mainly further processed into edible oil for food purpose. To meet the international industry's standards for edible oil, the crude palm oil produced by oil mills should be refined in palm oil refinery plant. Palm oil refinery process mainly includes palm oil degumming, palm oil deacidification, palm oil bleaching and palm oil deodorization.
Successful Projects of Edible Oil Refinery Plant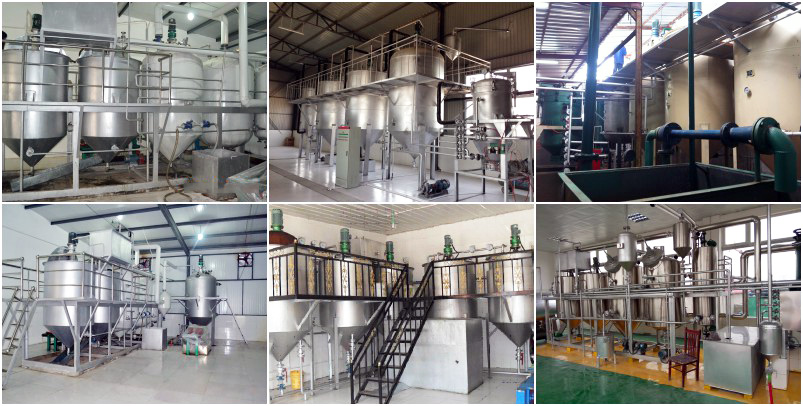 Small Oil Refinery Plant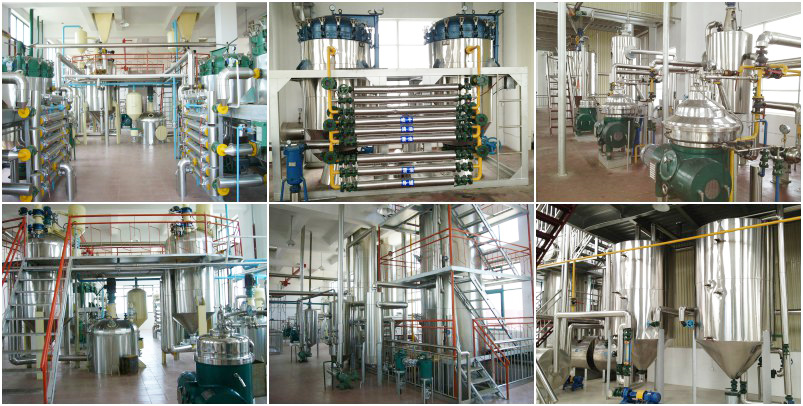 Large Edible Oil Refinery Plant
Basic Steps of Classical Refining Process
Step 1

: Remove the easily hydratable phospholipids by degumming with water.

Step 2

: Convert the remaining on-hydralable phospholipids into hydratable phospholipids.

Step 3

: Adding a slight excess of sodium hydroxide solution to neutralize the free fatty acids. Then, wash out the hydrated phospholipids and soaps;

Step 4

: Bleaching with natural or acid-activated clay minerals to adsorb colouring components and to decompose hydroperoxides.

Step 5

: Remove volatile components through steam distillation process under elevated temperature (180-220°C) and low pressure (2-6 mbar).
The refining process removes water, odouriferous matter, phosphatides, free fatty acids and other impurities including dirt and traces of metals from palm oil mill. After processed in palm oil refinery plant, the final oil product is a kind of premium edible oil of consistent quality which not only satisfies customer requirements and industry's standards in respect of Iodine Value, FFA, flavor, color, melting point, peroxide value, impurities and moisture.
Crude palm oil can be processed by either physical refining (distillative neutralization, steam stripping) or chemical refining (alkaline refining) to produce RBDPO and NBDPO. RBDPO refers to refined, bleached and deodourised palm oil, while NBDPO refiers to neutralised, bleached and deodourised palm oil.
Palm Oil Refinery Process - Physical & Chemical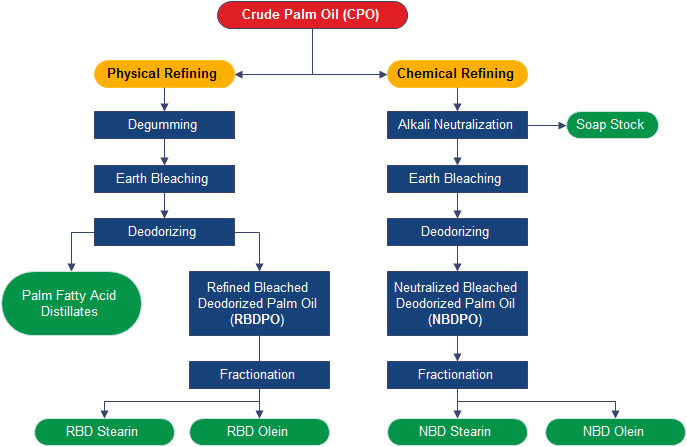 Curde Palm Oil Refining Process (Physical Vs Chemical)

---
Physical Refining of Palm Oil

Physical refining is also known as steam refining. In degumming process, it utilizes citric acid or food grade phosphoric acid to remove natural gums in the form of phosphatides. Then, in bleaching process, under vacuum, Fuller's Earth is used to remove colouring matters and adsorb any metal ions. The deacidification and deodorization process is under high temperature and low pressure. By used of live steam, the FFA is stripped of. The steam is then recovered together with the entrained oil is as palm fatty acid distillate. The off-flavors and odours can also be removed from the crude palm oil in the steam distillation process. Before polishing, the refined oil needs to be cooled to 55°C.

Physical palm oil refinery plant is featured of high efficiency, simple production process and low effluent load.




Chemical Refining of Palm Oil
In the chemical refining process, the FFA is removed by neutralisation with caustic soda (sodium hydroxide). This chemical reaction produces neutralised CPO and a soap stock. By used of a high-speed separator, the soap stock can be separated from the oil. Then, through earth bleaching, colour pigments and metal ions are removed from the neutralised oil. Then, in deodorization process, odoriferous matters such as ketones and aldehydes are removed by steam distillation under vacuum.


-
When refining crude palm oil with high carotene content, high initial FFA (up to 5%) and low phosphatides, chemical palm oil refinery plant is suggested, considering operating costs and refining losses.
Major equipment: magnetic drum, cleaning sieves, sheller, crusher, flaking roll, cooker, softening pot, puffing machine, plate type drier
Application: high efficiency oil refining from crude palm oil with low energy consumption and oil yield
We assure the most precise design, high quality Palm Oil Refining Machine, mature project installation, and perfect after sale services.