05/08/2019
Coconut Oil
A lot of information is swirling around out there about the potential benefits and drawbacks of coconut oil.  So, let's break it down!  Why should you be reaching for coconut oil for skincare and household needs?  Well, for one, because your skin and hair will sincerely thank you!  And, isn't that reason enough?!
Okay – if not, here is some more must-have information that is sure to seal the deal.
Cooking with Coconut Oil
Coconut oil is a type of healthy fat that has been making waves within the last few years.  It is said to have many health benefits, namely maintaining and increasing the health of your skin and hair.  At room temperature, coconut oil is solid but when heated it can be softened or melted.  Coconut oil is high in saturated fatty acids, and saturated fat has been linked to high cholesterol levels. However, just like anything else, moderation is key! Experts also recommend that if you are cooking with coconut oil, to opt for extra-virgin coconut oil, as it is more refined and gently processed.
Coconut Oil in Your Hair and Skincare
On the flip side, moderation is not a concern when it comes to antioxidants.  And lucky for you, coconut oil is chock-full of antioxidants and vitamins that can have a massive impact on both your hair and skin.  It is especially useful for for anyone with dry, sensitive skin and greatly impacted by this never ending cold, winter months.  Coconut oil is rich in vitamins E and K, and in iron, too.  All of these help to keep your skin and hair healthy and thriving!  Coconut is also know to have anti-inflammatory properties which can help in combating acne.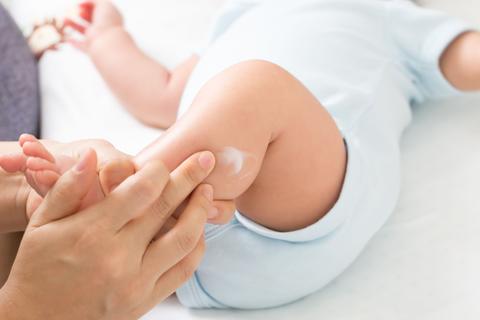 Similar to cooking, extra-virgin coconut oil is also suggested when you are using it for your body and hair.  Coconut oil can be used as a hair mask while in the shower to add moisture and shine to those beautiful locks. Additionally, coconut oil can help tame frizzy, flyaway hairs – admit it, we have all been there resulting in a "messy bun" kind of day! Coconut oil is also a great ingredient to have in lip balm or body moisturizer.  The antioxidants in coconut oil help to stop skin irritation and protect your skin. Coconut oil can also reduce eczema symptoms due to its moisturizing properties. You will love Babo's Miracle Moisturizing Face Cream and Sensitive Baby Fragrance Free Daily Hydra Baby Lotion.