01/04/2019
palm oil mill plant feasibility study
Palm oil is one of the major sources of edible oil. It is extracted from a fleshy mesocarp of the palm fruit. Setting up a palm oil production plant is necessary since global demand is on the rise. But there are many requirements for setting up a palm oil processing plant in Ghana which demands a feasibility study. These requirements include palm oil production machine, available market, money , and labor. The project of setting up the palm oil mill plant should be technically, financially and environmentally feasible.

Palm oil
Opportunity
First, you need to identify if there is a business opportunity in a given area, country or region. A growing demand for palm oil provides an economic opportunity. The abundance of palm trees guarantees a continuous supply of palm fruits. Palm oil processing is labor intensive. The youthful workforce provides cheap labor depending on area of operation. There should also be an opportunity to manufacture further refined products.
Technical Feasibility
Advanced methods of production require new palm oil processing equipment which can be expensive. You need palm fruit reception machine, palm fruit sterilizing machine, palm fruit threshing machine, palm fruit digesting & pressing machine, crude palm oil clarification machine and others. High costs can discourage intending processors from investing and setting up new palm oil mill plants. You can choose to set up small scale palm oil mill plant, medium-sized palm oil mill plant or large scale palm oil mill plant and so on.
Financial Feasibility
Setting up the palm oil processing plant and purchasing equipment requires funds. It also takes into consideration wages and salaries to be paid to employees. Available funds determine the size of the plant and amount of palm oil produced. Economic stability and profitability of palm processing need to be analyzed. There should be demand for palm oil to guarantee profits in the long run. A feasibility study will help determine if the business plan has enough resources to fund the project. Financial implications of oil processing form the basis of the processing business. Palm oil economics uses profitability models like Benefit-Cost Ratio to determine the cost of palm fruits, transportation, hiring/purchasing equipment, availability of labor and market price.

Environmental Feasibility
An environmental impact assessment needs to be carried out as provided by the law. It helps to determine any negative impacts when establishing and operating the plant. Fortunately, all by-products from a palm oil processing plant are recyclable. Empty palm fruit bunches, palm shells can be used as fuel of boiler.
In conclusion, a financially, technically and environmentally feasible project benefits all whenever an opportunity presents itself. The owner of the palm oil processing plant will earn profits. Local people will get jobs, palm oil, and refined products. The products are also recyclable. Carrying out a feasibility study and following laws of the land determines the success of a palm oil processing enterprise.
Palm oil production process introduction: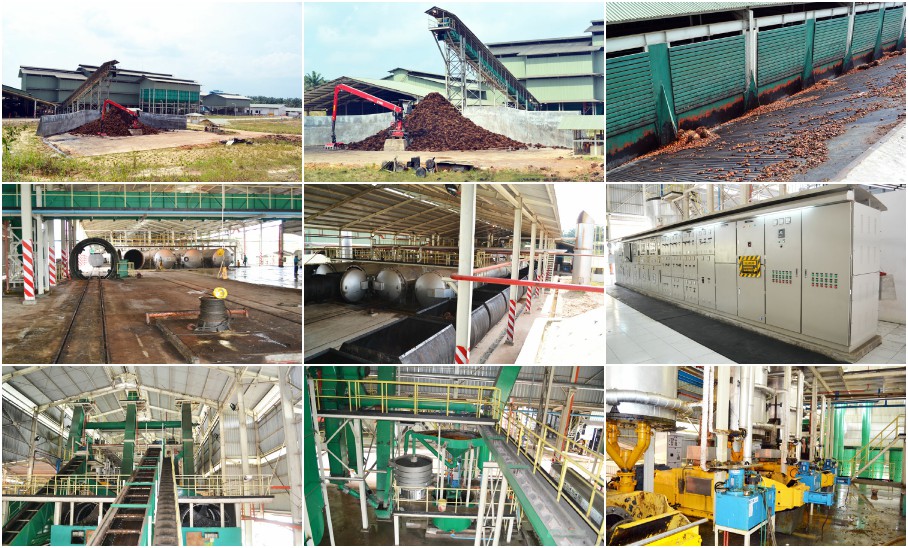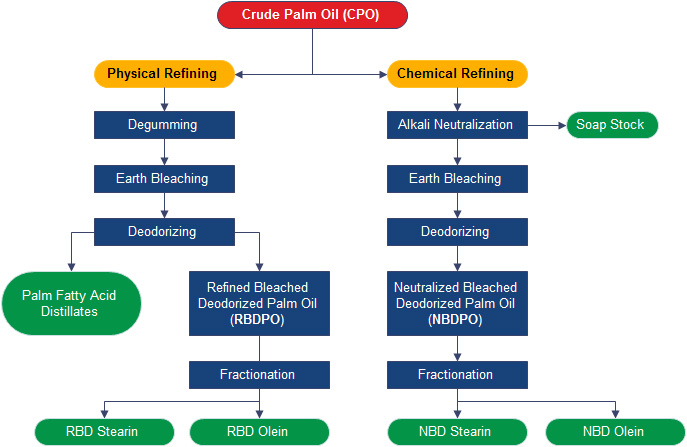 Palm oil production process
Palm oil production process is quite diffferent from other oil seeds processing, such as the soybean, peanut,sunflower etc. Palm oil production process machinery is a complicated project which include a series of processes.Palm fruits consists a lot of fatty acid enzyme, which would hydrolyze palm oil. That's the reason why palm fruit must be sent into processing in 24 hours.
Palm oil production process includes 6 parts: Palm bunches receiving, sterilizer, threshing, mashing and pressing, crude oil clarifying and palm kernel recovery.
The follwing is pictures show of palm oil production machine:
『1』Palm fruit reception station;
『2』Palm fruit sterilzing station;
『3』Palm fruit threshing station;
『4』Palm fruit digesting & pressing station;
『5』Crude palm oil clarification station;
『6』Palm kernel recovery station;