07/15/2016
Electric & Manual Hydraulic Oil Press Machine Instruction
I. Hydraulic Oil Press Machine Technical Parameters
Model
Pressure
Inside
diameter
Outside
diameter
Power
Oil Output
(Sesame)
Handling capacity
Weight
Dimensions
HDC-50T
50T
170mm
180mm
Hand
20-30kg/day
50kg/h
160kg
300*200*700(mm)
HDC-80T
80T
170mm
180mm
Hand
20-30kg/day
50kg/h
180kg
300*200*700(mm)
HDC-100T
100T
170mm
180mm
Hand
20-30kg/day
50kg/h
200kg
300*200*700(mm)
II. Hydraulic Oil Press Machine Specification
Manual hydraulic oil press machine picture: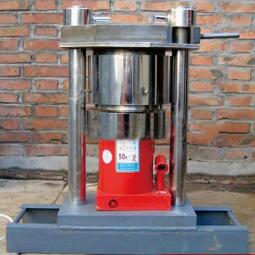 Description
1. This machine is very suitable for family using and small scale oil factories. Which can press olive, sesame , cocoa beans, walnuts, almonds, and other high oil crops.
2. After pressed, the oil is very pure with good smell, can be edible for people directly. The oil can reach the healthy standard.

Electric hydraulic oil press machine picture: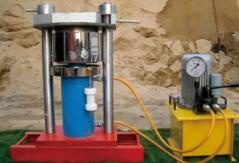 Description
Small oil press machine manual operation , low price, widely used in family.
Technical parameters
Model
Pressure
Inside
diameter
Outside
diameter
Power
Oil Output
(Sesame)
Handling capacity
Weight
Dimensions
HDCE-80T
80T
170mm
180mm
1.5KW
20-30kg/day
50kg/h
190kg
500*200*700(mm)
HDCE-100T
100T
170mm
180mm
2.0KW
20-30kg/day
50kg/h
210kg
500*200*700(mm)
Big electric cocoa butter hydraulic oil press machine picture: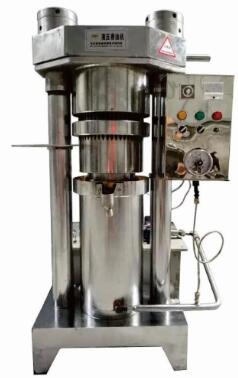 Description
1, Automatic hydraulic oil press is the most advanced equipment and it is a best choice to instead of hand-operated worker currently. Auto hydraulic oil press is the easiest to operate, having the highest oil yield, the least to replace wearing parts among all the range of machines.
2, Particularly suitable for people from large cities to spend less money to buy real goods, rural towns can ensure fast processing of incoming (get their own fuel oil), known as assured oil.
Technical parameters:
| | | | |
| --- | --- | --- | --- |
| Models | 6YZ-180 | 6YZ-230 | 6YZ-320 |
| External Dimension(mm) | 800*650*1100 | 900*750*1400 | 1100*1000*1500 |
| Weight of machine | 530kg | 880kg | 1320kg |
| Nominal pressure | 1600KN | 2200KN | 3000KN |
| Max pressure for working | 55Mpa | 55Mpa | 55Mpa |
| Power of electricity heating circle | 1KW | 1KW | 2KW |
| Controlling temperature of  heating circle | 70-100°C | 70-100°C | 70-100°C |
| weight/time | 1-3kg | 2-7kg | 5-15kg |
| Motor type sand power (kw) | Y901-4-1.5kw | Y901-4-1.5kw | Y901-4-1.5kw |
III. Hydraulic Oil Press Machine Instruction
1, Turn it on, check the indicator light work, for the first time to use the machine, place the pump station joystick to horizontal position, switch machine 10 times continuously. Drain the gas inside the pump station, turn it off, switch on the thermostat.
2, Place the joystick plumb, open on top, trun it on, observe the piston riseing to pressure plate when it can be pulled out in the cylinder , shut off the switch immediately. Note: do not allow the piston to rise too high, just remove the pressure plate, do not move any other partsinside the cylinder.
3, Open on top, put a cotton cushion, pour the cooked oil smokea into cylinder, put another cotton cushion into the pressure plate, close on top. Place the lever in vertical position, switch it on, start squeezing. under normal circumstances, the pressure gauge pressure meter box to 55 mpa (50) will automaticcally stopped, and began to work automatically when the pressure drop to 40 mpa, repeat 2-3 times, the oil will be totally squeezed out. Switch off, place the lever to horizontal position and replace to the vertical position after 20 seconds . Open the top, switch on, take out the cake, put the lever to a horizontal position. Make sure the piston down to the bottom for squeezing next time.
Special tips: use a hose connection between a host on the back of the return pipe and pump station, to prevent the piston rises too high which will cause the hydraulic oil flow out.
IV. Process of Cocoa Butter Press Machine Show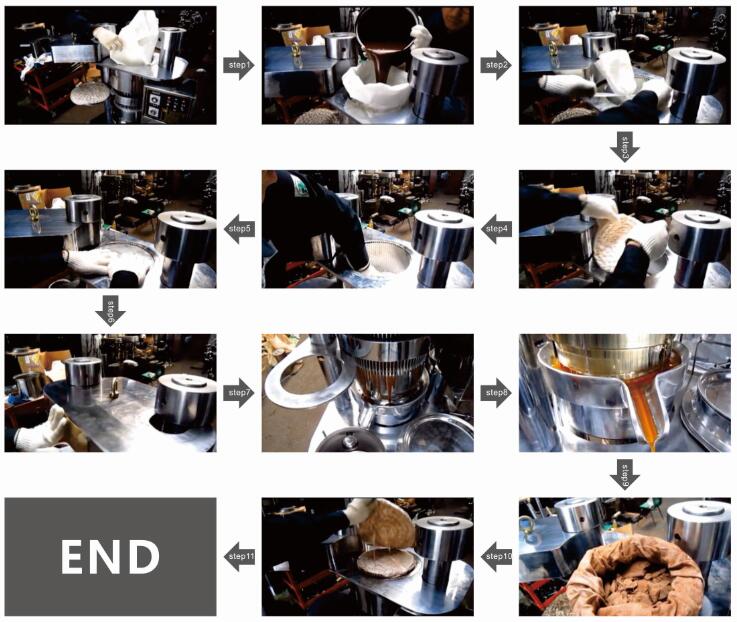 V. Advantages of Our Hydraulic Oil Press Machine