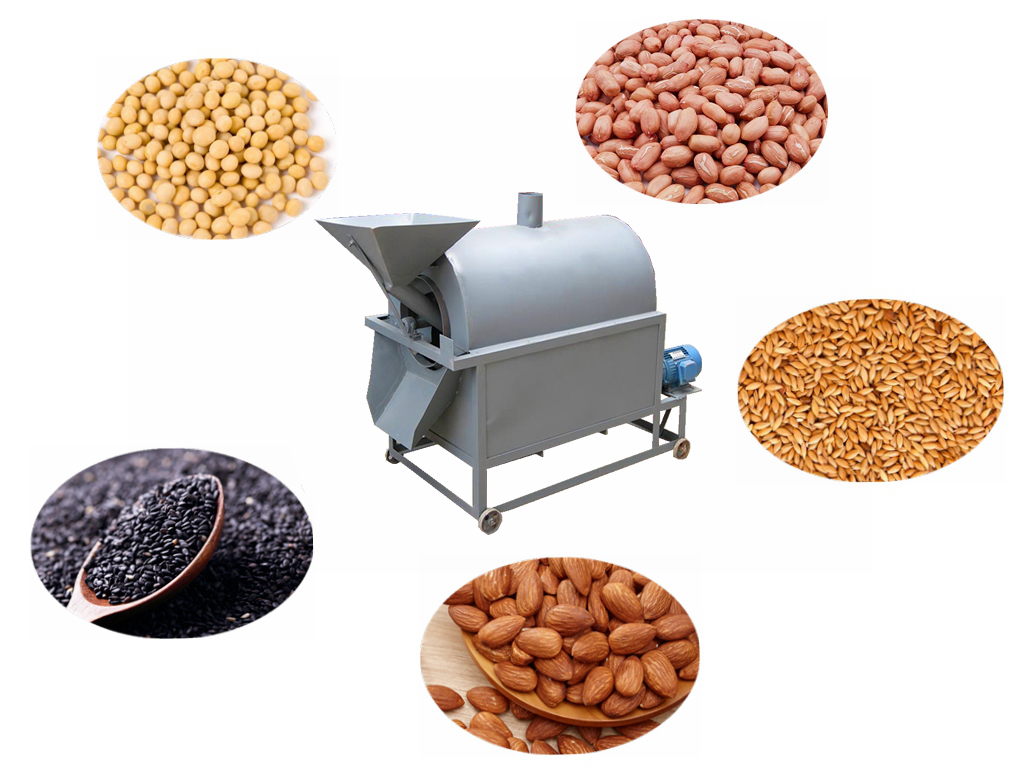 Peanut roaster machine is applicable for various material: peanut, almond, cashew, cocoa bean, soy bean, sunflower seeds,etc. It's suitable for drying and roasting.

Roaster Machine features:

1. Being used for frying, drying of all kinds of oil crops. Normally the temperature is controlled in 160-230 °C during seeds frying course (it depends on what kind crop), crops maturity in 7-8 percentage is appropriate.
2.This equipment is in a drum shape, with which: crops can heat uniformly, temperature can be controlled easily; save money,save time, and other characteristics. especially for small and medium sized oil equipment.
Roaster Machine principle:

1.There are three kinds of stir-frying cauldron we can produce: automatic frying roller, frying pan and conducting oil frying pan.
2.Frying roller has the size of two kinds, small and large, small one with motor of 0.75kw, which can fry oil plant for 50kg per time, larhe one with motor of 1.1 kw, which can fry 90kg one time.
3.This stir-frying roller cauldron is very easy to use, it can burn coal, firewood, gas, electricity and so on, customers can choose the suitable fiel according to their own needs.
4.Automatic conducting oil frying pan is a double pan, you can have a pure quality after material fried.
5.This conducting oil frying pan also have two size, small one with motor of 0.75kw which can fry 60kg per time, large one with motor of 1.1kw, which can fry for 140kg per time.

This roaster is to roast oil seeds before feeding
oil press
to increase oil output. Suitable for roasting/drying different oil materials, such as rapeseeds, peanuts, soybean, sesame seeds, cotton seed, coconut, palm, sunflower seeds, olive and plant seeds, ect. It is designed for farmers and workshops to increase oil production.
We assure the most precise design, high quality roaster machine, mature project installation, and perfect after sale services.