Oilseed Pretreatment and Pressing Machine

Type: Oilseeds pretreatment and pressing
Processing Material: soybean, sesame, corn germ, camellia seed, palm fruit etc
Capacity: 30-5000T/D
We're here to help:
Easy ways to get the answers you need.

We designs various types of production lines of oil seeds pretreatment and pressing machines on basis of analysis of oilseed properties and customers' requirements. Concentrating on development of oil seed machines designs and innovation of oil processing flow, we provide fully automatic and stable operation oil seeds pretreatment and
oil press machines
in order to fulfil treatment of various oil seeds.
Process Flow Chart of Oil Seeds Pretreatment and Pressing: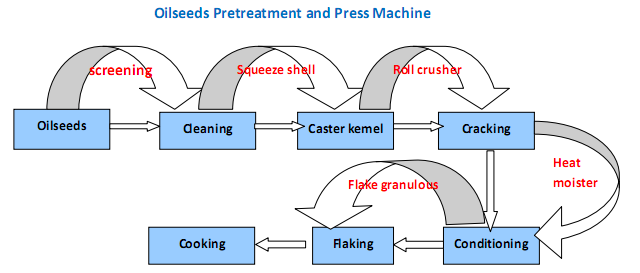 Features of oilseeds pretreatment & processing machines:
● Innovative designs to meet various pretreatment and pressing of multiple oil seeds. Oil seed pretreatment and pressing equipments adopt advanced process design, being equipped with different process on basis of oil seed property.
● Affordable oil processing solution with low cost. We provides reasonable designed oil pretreatment and pressing machines with durable structure, low production cost and affordable invest on major oil equipment.
● Environmental protection and energy saving oil plant. Combing the consideration of local climate and water quality with oil pretreatment and pressing process, we assures the most reliable and lowest cost oil machine designs for users worldwide.
● Full set of production line and services. We promises complete set of oil seed pretreatment & pressing machine production line including design, manufacturing and installation as well as on time after sale service.
Capacity: 30-5000T/D
Application: pretreatment and pressing oilseeds including soybean pretreatment, rapeseed pressing, corn germ pressing, peanut pressing, cottonseed pressing, sunflower pressing, rapeseed pressing, rice bran pretreatment, castor seed pressing, and copra pressing
We assure the most precise design, high quality Oilseed Pretreatment and Pressing Machine, mature project installation, and perfect after sale services.