bulking machine Summary
The so-called puffing, also known as the organization or structure, is about to clean up the broken material by the spiral of the advance, the density continues to increase, the material continues to increase, the material gap in the gas was introduced, when the gap gas is filled with material By the role of shear and produce reflux, so that the pressure inside the chamber increased. With the friction between the screw and the machine to make the material of the crystal to achieve full mixing, heating, pressure, glue, gelatinization and organizational changes.
Modern extraction technology greatly improves oil yield of oil seeds. After pretreatment process, some oil seeds are of large-sized powder and oil impassability, the extraction process will be hard with high solvent consumption and residual oil. Extraction technology is adopted in order to solve the problem. After extraction, the material becomes larger, more permeable, and the inner oil channel is fully opened, which makes the extraction much easier. Under the same conditions, residual oil and solvent consumption will decrease greatly, and the yield will improve 50-80%. Extraction can also passivate antinutritional factors in soybean---urease, improve palatability and nutritive value. Expanding technology is an important means of energy conservation in modern oil production industry.
Generally, puffing process/puffing machine impoves quality of crude oil and meal, also helps to increase oil yeild rate.In pretreatment workshop before solvent extraction, puffing machine is always necessary, such as soybean oil, rice bran oil, etc.
Features of bulking machine we offer: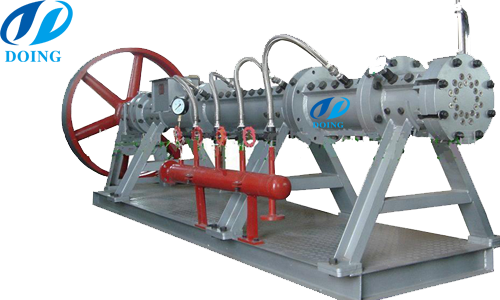 1. Reasonable structure
2. Stable performance
3. Easy to operate and maintain
4. Suitable for contunuous operation
5. High efficiency and energy saving
6. Improve the quality of oil and meal.
What is the principle of puffing machine ?
After extrusion and puffing, oil seeds cells are damaged completely , the grease evenly spread and cohesion , formed into a strong and mature embryos, improve dissolved permeability, greatly improving the efficiency of oil extraction , increased production capacity .

Types for oil puffing machine:
There are many kinds of puffing machine, can be divided into soybean oil puffing machine, rice bran oil puffing machine, high oil pre-press oil puffing machine, and tissue proteins oil puffing machine and so on according to different treatment for different oil seeds.
In addition to puffing process, different kinds of oil seeds may also need cooking, softening, flaking , drying and other processes to get the most Oil yield and meal of better quality.
The simple processing of oil pretreatment includes pressing, high temperature pressing, cold pressing (less than 70 degrees) etc.

● Formal oil pressing can adopt one time or twice pressing of oilseeds. It is applicable for low capacity required oil processing oil plant.
● High capacity oilseeds pretreatment and oil pressing equipped with oil extraction treatment, is used in high capacity and large-scale oil pressing plant, or high oil content oilseeds processing plant.
● Oil prepressing can get up 70% oil fat of embryo, and residual oil inside pre-pressed cake can be extracted by organic solvent.
We assure the most precise design, high quality Bulking Machine, mature project installation, and perfect after sale services.