Soybean protein technology:
I.1 Flow chart:

I.1.1 Solvent Extraction System
White soybean slice--Screening--Chain Solvent Extractor--Extruding and Pre-desolventization-
↓
↓
↓
Powder Alcohol extraction liquid Mixed solvent system
Wet meal desolventization--Drying,Grinding--Soybean Concentrated Protein Powder
↓
Solvent gas recovery system
1.3 Main equipment

I.3.1 Extractor
As we use hydrous alcohol extraction method, the extractor had better adopt stainless steel, the carbon steel equipment inner part with coating can prevent corrosion too.Adopt special technology,just modify the chain extractor technology of American Crown Steel Company, then get better extraction effect.
I.3.2 Pre-desolventizing extruder
Predesolventizing extruder can adopt special double screw extruder,through pressing can lower down the solvent in the wet meal from 60%-70% to 45%-50%,thus release the subsequent desolventizing part load,shorten the desolventization time,reduce solvent consumption and thermotropy.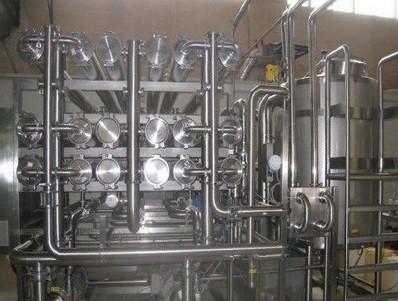 I.3.3 Wet meal desolventization tray dryer
This equipment is the main part,affect the subsequent protein product quality and solvent recovery efficiency.Our Special desolventization tray dryer is vertical with multilayer structure,the tank upper part design as special structure, the wet meal with sovlvent enters into desolventizer,then under the joint function of rising solvent steam in the tank lower part and jacket heating,remove the free solvent on the surface of the wet meal;It needs to inlet less superheat vapor in the tank lower part,to remove the alcohol solvent left in the meal micropore and capillary,keep the solvent residue of the final meal product achieves standard,also not getting thermotropy with superheating.Desolventization process works in the negative pressure,can lower the alcohol solvent boiling point,prevent the meal thermotropy.
I.3.4 Membran evaporator
The alcohol extracting liquid recovery the alcohol in the membrane evaporator under lower temperature and vaccum condition. In the last stage of concentration, the syrup concentration is a little high,so it is viscous, it has high requirement of equipment.
I.4.1 Sorting
The low temperature degreased soybean meal quality affects the final product quality and functionality,only high quality soybean meal can get high quality and protein content concentrated protein.So it needs to sort nonmildew,low peel content, less impurities,high protein content(Dry basis content≥50%),nitrogen melting index 50&-70% meal as materail.Before the material enters into the extractor,it needs to screen and remove powder,prevent bad percolation,block extractor sieve plate.the oil residue should not be high, or affect alcohol solvent percolation.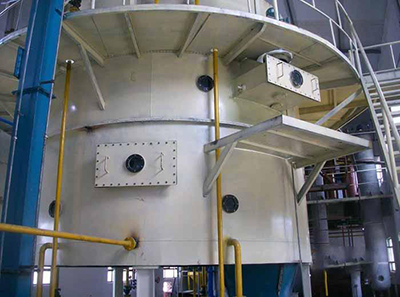 I.4.2 Extraction
Based on product protein content and final mixed solvent concentration,adjust meal and solvent ratio at 1:(5-8),the extracting temperature keeps at around 70℃,time is at 2-4h.
I.4.3 Wet meal desolventization
Based on exported dry meal desolventizing condition and thermotropy condition,adjust vaccum degree,drying temperature and standing time in the tank.
I.4.4 Membran evaporation
The component with hydrous alcohol extracting liquid is complex,before enters in the membrane evaporator, it needs to filter large quantity powder and concentration precipitate out.