In recent years, because the vegetable protein has incomparable animal protein nutritional properties and functional characteristics, plant proteins are widely used in food, feed industry, have developed a variety of high-protein food, food reducing weight and protein membrane and other products.Preparation with low temperature meal meal protein concentrate, protein isolates have broad application prospect.
1 protein concentrate on low temperature meal as raw material, through the elimination of low temperature meal of soluble sugar, soluble ash and other trace elements, protein content increased to 65%-65%.
2 protein isolate is alkali soluble acid sinking method, first the defatted meal after using dilute alkali extraction, using centrifugal separation to remove insoluble substance in the pulp (mainly polysaccharides), then use acid leach liquor PH adjustment to the isoelectric point of protein, protein coagulation precipitation down, the isolated protein sediment, then through washing, neutralizing, dry separation of soybean protein.
Peanut protein powder processing technology:
Peanuts, in addition to the oil content as high as 46%-52%, protein content as high as 26%-32%, is higher than milk, pork, eggs, milk 3%, egg 14%, fish is 25%, pork is 16%, wheat flour is 9.9%), and more than 90% of peanut protein is globulin, contains 18 kinds of amino acids, including the human body can not own synthesis of 8 kinds of essential amino acids.Among them, besides methionine content is less, the other seven are close to or higher than the United Nations food and agriculture organization (FAO) standard.
My company in recent years has been committed to the research of plant protein, in combination with ADM and CENRTALSOY company technology, successfully developed a peanut protein and soy protein processing technology.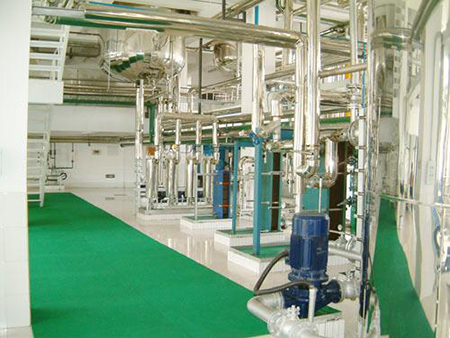 Soybean separation protein extraction equipment