This corn germ oil pressing machine adopts advanced crushing craft, automatic crude germ oil filter, and corrosion-resistant body material design to achieve high quality grade corn germ oil with low energy consumption and high efficiency.
Corn germ oil obtains from corn germs by wet or dry method degermination through oil pressing and extraction. Corn germ oil pretreatment and pressing machine adopts the most advanced automatic control system to realize corn germ oil production line working stable and automatically.
Process flow of corn germ pretreatment and corn oil pressing machine: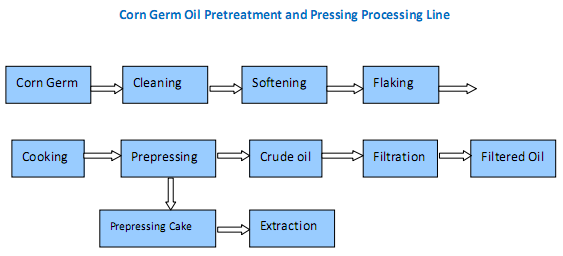 Featured characteristics of corn germ oil pretreatment and pressing machine:
● Perfect corn germ selecting method filters corncobs out and get high purity corn germ efficiently.
● Softening of corn germ makes it easily to get thin and tough embryo. It is conductive to extraction, and brings convenience for further process of corn germ oil dephosphorylation and physical corn germ oil refinery.
● Unique corn germ crushing process reduces final residual oil of corn germ meal effectively.
● Corn germ oil pretreatment and pressing machine adopts durable and corrosion resistant design, which can withstand corrosion of sulfurous acid inside corn germ safely.
● The corn oil of cooked embryo can be press out 50-70% from corn oil presser. The filtered crude corn oil has low impurities less than 0.2%, low moisture less than 0.2%.
Processing material: corn germ, maize germ
Production scale:10-2000 t/d as required bu the the customer.
Application: pretreatment of corn germ or maize germ, and pressing of corn germ oil
We assure the most precise design, high quality Corn Germ Pretreatment and Oil Pressing Machine, mature project installation, and perfect after sale services.