Adopts the most advanced corn germ oil extraction technology to ensure high efficiency, economical and reliable crude germ oil extraction process. Cooperated with vacuum evaporation oil extraction design, solvent condensation and tail gas recovery system, the oil extractor can obtain crude corn oil with high oil yield, low residual oil, low solvent consumption, and low equipment failure.
Corn Germ Oil Extraction Technology Introduction:
● High efficiency and longer time extraction ensures perfect extraction results. We designs corn germ oil extraction line with durable stainless steel fixed grid plate and increases horizontal grid plats. This advanced design can prevent miscella in case of flowing back to blanking case and ensures high quality extracting crude oil.
● Strong ability of Desolventizing. Desovlentizer toast can adjust the color, flavor and taste of corn germ meal, reduce residual solvent, and guarantee the lowest solvent consumption and safety of corn germ meal.
● Negative pressure evaporation to separate miscella efficiently. The vacuum evaporation technology will separate liquid miscella on basis of different vaporization temperatures with low solvent leakage and consumption.
● Vacuum evaporation with high efficiency de-solvation. The secondary steam of desolventizer toaster together with remaining steam from steam jet pump is being used as heat source, can save energy and reduce condenser configuration area.
● Perfect solvent condensation with low residual oil. Combined with evaporation system, solvent condensation system of corn germ oil extraction process line can separate crude corn germ oil and solvent totally. The gas tail gas goes to paraffin recovery process.
Process Flow chart of Corn Germ Oil Extraction Processing Line: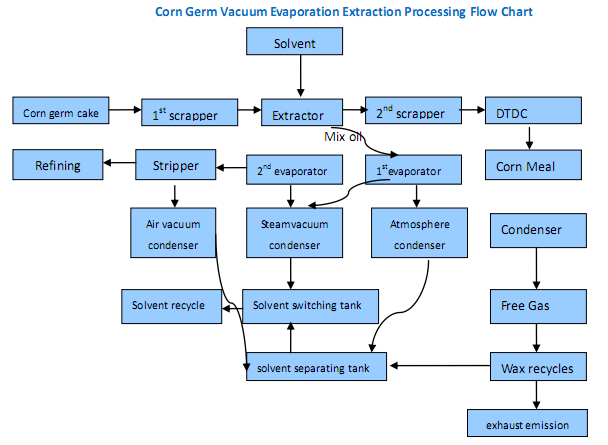 Capacity:
50-5000T/D
1. It can save labour and save cost : only 1 or 2people can finish the production.
2. Widely used to press various kinds of oil materials, like soybean, sunflower seeds,
peanut, sesame,rapeseeds, flax seed, camellia, cotton seed, cashew, hemp seed, linseeds, coconut,and all the oil content crops.
3. Different oil materials have different oil yielding.
4. Small-land using: only 10-20square maters can meet the need of production.
5. The oil left in cake is less than 6% . And cake thickness can be adjusted once the machine stop running.
6. It is easy to operate . When operating, you should do as the instruction .
Major equipment: extractor, D.T.D.C desolventizer-toaster, stripping tower, dryer, condenser, absorber
Application:
crude oil extraction from corn germ through negative pressure extraction method
1.Roary extractor: Spray and soak the pretreatment rice brain with solvent so that oil fats can be dissolved in solvent(form miscella). After processing, you can get wet meal and miscella (mixed oil) .
2.DTDC: It is usd to separate the solvent from the wet meal.
3.Miscella tanks:It is uesed for purifying miscella will be pumped into it.
4.1st evaporator, 2nd evaporator: used to separate the solvent from the oil. After this process,the solvent can be removed 85%.
5.Miscella stripping: it will remove the remaining solvent in miscella. And the solvent will be discharged to condenser for recycling.
6.condensers: used to cooling the solvent gas separated from the wet meal and miscella for recycling.
We assure the most precise design, high quality Corn Germ Oil Extraction Machine, mature project installation, and perfect after sale services.
RELATED PRODUCTS