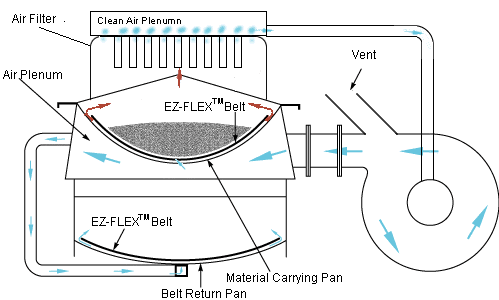 Unique features of air supported belt conveyor:
● Dedicated gas chamber design. Air supported belt conveyor adopts professional die stamping and forming designed gas chamber disk slot, allowing scientific and reasonable pressure segment. Either single or double air plenum chamber is available on basis of users' demand.
● Firm structure and reliable performance. Employed by multiple sets of welding fixture of head, tail and middle sections, the air supported belt conveyor gets superiority of durable structure, good sealing, reliable performance, advanced quality, low weight, and low noise.
Self-aligning roller allows automatic belt adjustment, and anti-deviation function.
● Long distance and bulk conveying. This large production and long distance belt conveyor adopts bi-direction conveying of dry bulk materials, realizes low cost on construction and investment, dustproof and waterproof, environmental protection, low energy consumption etc.
● Multiple discharges from conveyor tail, middle section, fulfill various process requirements.
● Double labyrinth designed rolling bearing greatly improves the lifetime of air cushion belt conveyor.
● Dual cleaning device reduces wear between conveyor belt and head and tail pulley.
● Multiple safety guard device including sideslip monitoring, speed monitoring, emergency stop monitoring, blocking monitoring prevent conveyor belt sideslip, deviation, over tension etc.
●Bulk material applied belt conveyor is widely used in grains, wheat powder, feed, food processing, charging and discharging in chemical industrial etc.