Major parts: bucket elevator shell, tracing piece (conveyor), hoppers, driving pulley (head pulley), bend pulley (tail pulley), tensioning device, guide device, charging port (inlet port) and discharge port (outlet)
Applications: lower capacity TDTG self-cleaning bucket elevator applicable for conveying grains, feed, particle and powder, oil etc.
TDTG self-cleaning bucket elevator allows high efficiency and lower capacity vertical elevating of pellet or powder materials in grain, food, feed, and chemical industry etc. Employed by advance designs of driving pulley, plastic covered head pulley, round foundation structure, this bucket elevator conveyor fulfils reliable conveying of materials with low residual, strong stability, in work.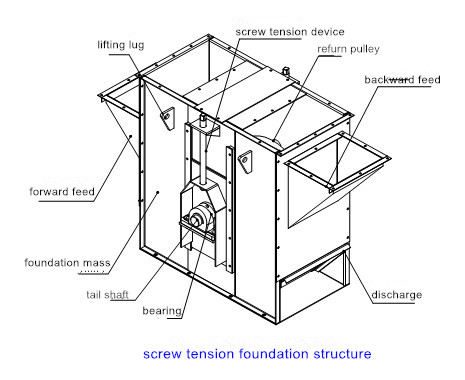 Featured characteristics of TDTG self-cleaning bucket elevator:
● Rubber coated head pulley. The head pulley adopts rubber-coated wheel in order to increase friction, prevent belt slippage and deviation, improve transmission efficiency, save installation time, and reduce maintenance cost.
● Head non-return device. The special design of non-return device in bucket elevator head can prevent material blockage caused by reversal of elevating belt during emergency stop.
● Self cleaning arc bottom foundation structure. The unique arc foundation of self-cleaning bucket elevator ensures gap between return pulley and ground slot, and controls the amount of residua. The screw tension device and squirrel tail wheel designed return wheel prevent the adhesion of tread material and improve elevating result efficiently.
● High strength plastic or steel bucket.
● Multi safety devices. Equipped with safety devices including maintenance gate, viewing window, explosion-proof vent, dust proof gate, speed test device, self-aligning to prevent against sideslip, blocking device and shaft temperature detection, the bucket elevator keeps stable and reliable vertical elevating of materials safety and effectively.
Technical parameters of TDTG bucket elevator:
| | | | |
| --- | --- | --- | --- |
| Model | Conveying Capacity(m³/h) | Linear Velocity (m/s) | Elevating Height (m) |
| TDTG36/28 | 35 | 0.8-2.2 | 40 |
| TDTG40/28 | 55 | 0.8-2.2 | 40 |
| TDTG50/28 | 80 | 1.2-3.0 | 40 |
| TDTG50/32 | 110 | 1.2-3.0 | 45 |
| TDTG60/28 | 120 | 1.2-3.0 | 60 |
| TDTG60/33 | 200 | 1.2-3.0 | 60 |
| TDTG80/33 | 300 | 1.6-3.5 | 60 |
Note: Parameters in the table are just common configuration. For any personalized requirement, please contact us free via email or call us for consultancy. We will give detailed answers and suggestion to your requirement.
Conveyors are widely applicable in port, oil, grain, corn deep processing, feed, flour, brewing, ores, chemicals, building materials, light industrials etc.
We concentrating on research, design, manufacturing and installation of conveyor equipments, including TDTG self-cleaning bucket elevator, en-masse conveyor, MU, MC, MS scraper conveyor, belt conveyor, air supported belt conveyor, screw conveyor and valve series.
We assure the most precise design, high quality conveyor, mature project installation, and perfect after sale services.