Palm Oil Production In Indonesia
Indonesia and Malaysia are the leading palm oil producers across the globe. They contribute up to 85 to 90 percent of the total global palm oil. Most of the palm oil in the global market originates from tropical Africa, Asia, and South America. it thrives well under tropical rainforest climatic conditions.

The Estimated Global Palm Oil Production in 2018.
| Country | Production (1000 MT) - Year of Estimate: 2018 |
| --- | --- |
| Indonesia | 40,500 |
| Malaysia | 21,000 |
| Thailand | 2,900 |
| Colombia | 1,530 |
| Nigeria | 970 |
| Guatemala | 740 |
| Papua New Guinea | 630 |
| Ecuador | 610 |
| Honduras | 580 |
| Brazil | 525 |
| Ghana | 520 |
| Côte D'ivoire | 480 |
| Congo | 300 |
| Costa Rica | 270 |
| Cameroon | 255 |
| India | 200 |
| Peru | 180 |
| Mexico | 140 |
| Philippines | 90 |

Palm oil acts as an essential raw material for the manufacturing of various products in food processing and cosmetic industry. Furthermore, it's used to produce biodiesel. More and more people are adopting the use of palm oil products, for example, beauty, vegetable oil, and biofuel products.
Palm Oil Production and Export
Indonesia exports most of its palm oil products to other parts of the world, for instance, India, the Netherlands, Pakistan, and China. Surprisingly Indonesia also imports a small amount of palm oil more so from India because of increased demand for palm oil products.The ever-growing demand has contributed dramatically to the growth of few local industries over the last 20 years. Moreover, many Indonesian farmers are venturing into palm oil farming. Besides, palm oil production has dealt a massive blow to cocoa and coffee with most farmers switching to palm oil farming.
2008
2009
2010
2011
2012
2013
2014
2015
2016
2017
2018 (Estimate)
Production
(million tons)
19.2
19.4
21.8
23.5
26.5
30.0
31.5
32.5
32.0
38.0
40.5
Export
(million tons)
15.1
17.1
17.1
17.6
18.2
22.4
21.7
26.4
27.0
28.0
29.5
Export Growth Rate
(percentage)
14.28%
3.81%
-0.91%
12.36%
10.40%
6.61%
19.55%
-11.78%
20.64%
1.33%
5.36%
The ever-increasing Indonesian population, as well as an increase in middle-class citizens, offers a massive domestic market for palm oil processing industry.

Furthermore, the Indonesia government is rooting for the adoption of palm oil biodiesel pausing a significant threat to the exportation of palm oil products in the future. Never the less, Gapki a palm oil association aims to produce about 40 million tons of crude palm oil yearly as from 2020.

Economic Impact of Palm Oil
The economy of Indonesia depends significantly on palm oil production industry. Palm oil farming and processing offers numerous employment opportunity to Indonesians. Many get employed to work in palm oil plantations or at value addition companies. Even more, the country benefits considerably on the foreign exchange a crowd from the exportation of palm oil products. Palm oil is the single most important industry in the agricultural sector that improves the life of Indonesians.



Oil Palm Plantation and Palm Oil Mill in Indonesia

The industry provides about 1.5 to 2.5 percent to the country's gross Domestic Product (GDP). Sumatra and Kalimantan constitute the main zones for palm oil farming in Indonesia. T0 percent of the palm oil is grown in Sumatra and the remaining 30 percent in Kalimantan. Palm oil production in Sumatra started during Dutch colonial era.
Geographical Location of Palm Oil Production
Geographically most of the palm oil is produced in Riau followed by North Sumatra. Other leading parts that produce palm oil in Indonesia include central Kalimantan, West Kalimantan, and South Sumatra. Palm oil currently covers about 11.9 million hectares as per BPS a statistic agency. The figure surpasses 2000s figures thrice when only 4 million hectares was used for palm oil farming. Besides, the statistics are expected to increase in 2020 to 13 million hectares.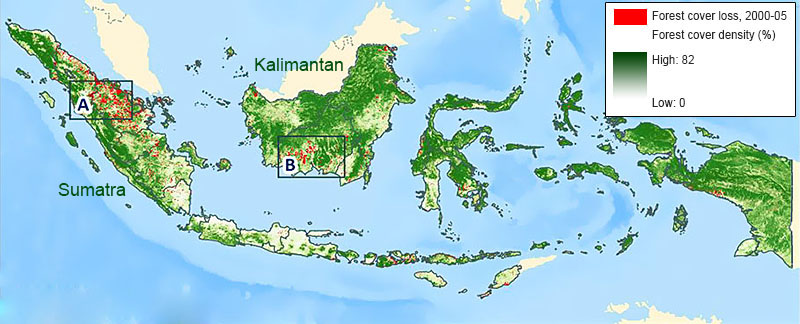 Geographical Location of Oil Palm Plantation in Indonesia

Large private companies like Willmar group and sonar mas group, own most of the palm oil plantations. They produce more than half of the total palm oil. Moreover, the government also owns a big palm oil estates as well as small-scale farmers who contribute about 40 percent to the entire palm oil produced in Indonesia. However, small-scale farmers often encounter considerable challenges in the industry, ranging from negative palm oil prices volatility to limited access to loans and other funds.
Previously Indonesia used to export, in a large extends raw palm oil. However, with the increased appetite for revenue, the Indonesian government encouraged large companies like Unilever Indonesia to improve palm oil refining capacity. The government aims to boost the value of Indonesian palm oil. At the same time create a mechanism to cushion vulnerable small-scale farms from loses due downstream prices of palm oil in the global market. The country's refining capacity has recorded an excellent growth from 30.? million tons in 2013 to 45 million tons in 2015 twice 2012's 21.3 million tons. Currently, Indonesia exports refined palm oil products to the larger international market.
The Indonesian government, not long ago, reduced the amount of tax that was being charged on palm oil products meant for export. The tax incentives were aimed at promoting the palm oil industry and increase the exportation of palm oil products. The export duty levied on crude palm oil ranged from 0 to 25 percent. However, the tax depended on international palm oil prices given that palm oil prices are volatile and could change any time.


In October 2014 and May 2016, Indonesian government reduced the tax levied on crude palm oil to zero following the fall of crude oil prices to below $ T50 on each metric ton of crude palm oil. Indonesia has a robust automatic tax system, which mostly depends on global palm oil prices. The tax mechanism is designed in a way when the government benchmarking prices fall below $ T50 the system automatically reduces the tax on Crude Palm Oil to zero.
During the zero percent tax on palm oil of October 2014 and May 2016, the government incurred huge loses in terms of revenue collection. BY mid-2015, the government decided to change the revenue collection policy on crude palm oil export. The new system charged around $50 per a ton of crude oil and a $30 on each metric ton of refined palm oil products. Revenue collected from the new tax law would be used partly to fund the government's biodiesel project.
Factors Influencing Palm Oil Prices
Many factors contribute to the volatility of palm oil prices. Below are some of the factors that can cause a downstream or upstream change of palm oil prices in the global market.


Malaysia Crude Palm Oil Futures vs. Indonesia FOB prices 2007-2017 (unit: US$ per-metric tonne)

Climatic conditions affect palm oil farming, to a greater extent, a change in the typical normal climatic suitable for growing palm oil trees.
Prices of other vegetable oils in the market like soybeans oil may have a positive or negative Impact on global on palm oil products.
Supply and demand for palm oil products across the globe.
Different Laws and regulations depending on the country importing palm oil products.
Change in the fee charged on exported or introduced palm oil products.