Cottonseed Oil Extraction Machine

Type: crude oil extraction from cottonseed cake

Material: cottonseed

Capacity: 100-1500T/D
We're here to help:
Easy ways to get the answers you need.

Cottonseed oil extraction production line solves crude oil extraction from cottonseed cake through processing flows of solvent extracting, mixture oil filtration, wet bran treatment of dephenolizaiton and mechanical desolvent, and low temperature drying, evaporation, gas stripper to obtain crude cottonseed oil.

Cottonseed oil extraction plant processing flow:

● Organic solvent extraction by rotary extractor. The steel bottom rotary extractor adopts spraying solvent extracting, sealed feeding, increase power door control to obtain full connection of cottonseed meal and solvent. The recycled solvent spray ensures maximum extraction of oil from meal with the lowest oil residual of less than 1%.
● Dynamic mixture oil filtration process. High dynamic filter makes continuous and efficient filtration of mixed oil. It reduces the solid impurity until 0.01% in mixed oil, and enables light color and high quality crude oil after evaporation and gad stripping.
● Scientific wet meal treatment. The featured extraction method of "liquid-liquid-solid" makes direct dephenolization of wet cottonseed meal by dephenolizing solvent in multi-stage extraction equipment. The extracting cottonseed oil enters into classification evaporation and gas stripper after filtration to extract crude cottonseed oil, and finally enters into oil refining plant. The solvent is recycling used through recycling system.

Flow Chart of cottonseed oil extraction: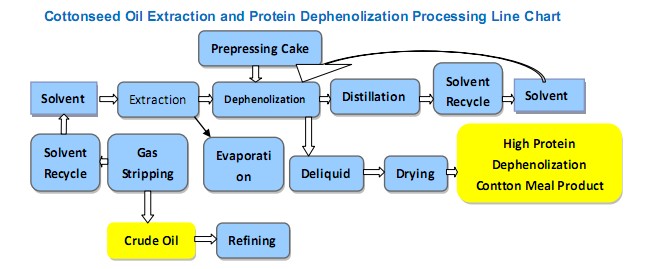 Features of cottonseed oil extraction processing line:

● One time low temperature organic solvent extraction. This oil extracting method makes high efficient crude cottonseed oil extraction and gossypol removal by step. It maximum avoid problems of cottonseed protein destroy and ensures high nutrition of cottonseed protein products.
● Two solvents for cottonseed oil extraction and phenol removal. The solvent extracting process ensures rapid and complete oil extraction and dephenolization.
Capacity: 100-1500T/D
Major equipment: multiple cells rotary extractor, D.T.D.C desolventizer-toaster, negative pressure evaportator, paraffin recovery equipment, dryer, condenser, absorber

Application: crude oil extraction from cottonseed cake, soybean, camellia seed, sunflower seed, rice bran, corn germ etc
We assure the most precise design, high quality Cottonseed Oil Extraction Machine, mature project installation, and perfect after sale services.