6YL-68C oil press machine can pressed all kinds of plant oil materials such as peanut, soybean, rapeseed, cottonseed, sesame, olive, sunflower, coconut,etc. Suitable for medium-small scale oil factory and private user, as well as the pre-pressing of extraction oil factory.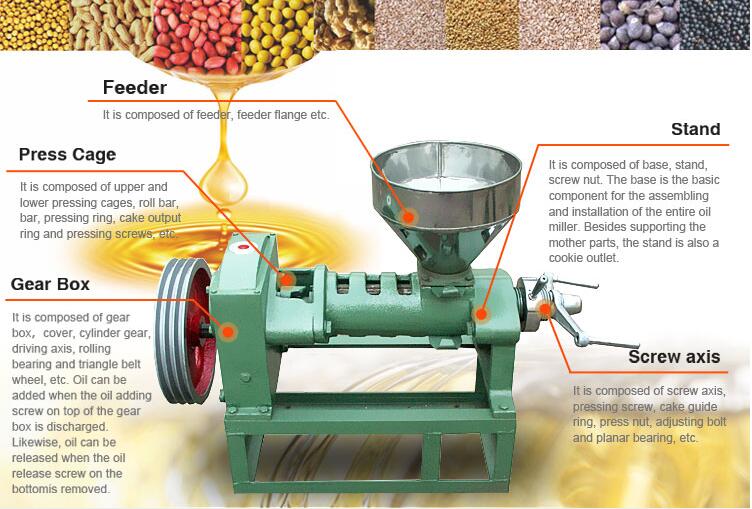 6YL-68C oil press operating principle:
1.When oil press is on work, material enters the extruding chamber from the hopper and then moves forwards by the rotating pressing screw and is pressed.
2. Under high temperature condition in the chamber, there is quite strong friction among press screw, chamber and the oil materials.
3. On the other hand, root diameter of the pressing screw carries larger from one end to the other.
4. Hence when rotating, the thread not only pushes particles moving forwards but also turns them outwards as well.
5. Meanwhile, particles adjacent the screw will rotate along with screw's rotating, causing every particle inside the chamber to possess different speed.
6. Therefore, relative movement among particles creates neat which is necessary during manufacturing because of helping protein change property, damage colloid, increase plasticity, decrease oil's elasticity, resulting in high oil.
6YL series oil press machine

Model

Capacity

Power

Electric machinery

Packing size(mm)

Gross and

net weight (kg)

6YL-68

oil press machine

40-50Kg/h

5.5KW

380V/50HZ/Triple phase

880*440*770

160/140

6YL-80

oil press machine

80-150Kg/h

5.5KW

380V/50HZ/Triple phase

1510*440*700

350/330

6YL-95/100

oil press machine

150-200Kg/h

7.5KW

380V/50HZ/Triple phase

1910*550*765

450/420

6YL-120

oil press machine

200-300Kg/h

11KW

380V/50HZ/Triple phase

2100*630*770

530/500

6YL-130

oil press machine

300-400Kg/h

15KW

380V/50HZ/Triple phase

2280*700*780

780/750

6YL-160

oil press machine

400-600Kg/h

18.5KW

380V/50HZ/Triple phase

2050*600*850

950/900
Oil Yield According to Different Oil Bearing Materials:
| Raw Material | Capacity(KG/HR) | Output Rate(%) | Output Efficiency |
| --- | --- | --- | --- |
| Cotton Seeds | 50-60 | 12-14 | 65-72 |
| Soybeans | 28-37 | 10-16 | 61-65 |
| Peanuts | 45-60 | 35-45 | 91-92 |
| Rape Seeds | 45-60/p> | 30-38 | 82-85 |

Start a mini oil pressing line with 6YL-68 Screw oil press machine:
You can start a small mini oil pressing line with our 6YL-68 Screw oil press machine. This mini oil pressing line is specially ideal for small oil making workshop or factory!

Details show: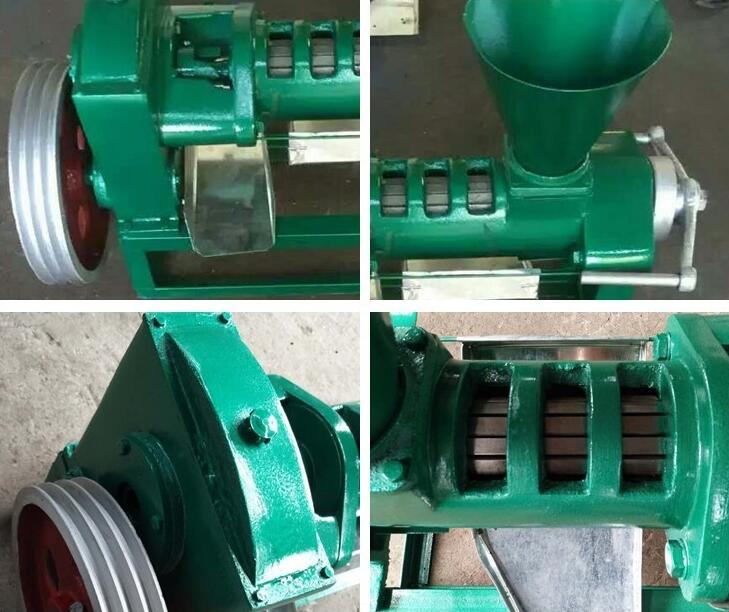 The screw oil press machine could used for pressing soybean,olive,peanut,sesame,sunflower seed,rapeseed,cottonseed,copra,castor bean,hemp,flaxseed,almond,nuts,palm kernel and so on
Main advantage of screw oil press machine:
1. High oil yield, small space occupied and low expense on equipment and electriciy.
2. Multi-functional used for pressing various of oil crops.
3. Simple operation and stable production performance.
4. Various machine models for options according to the capacity.
5. Widely used by small workshop and factories and hot selling at home and abroad.
We assure the most precise design, high quality 6YL-68 Oil Press Machine, mature project installation, and perfect after sale services.