6YL-120 oil press machine
oil making press adopts the principle of multi-stage gradual compression to increase the pressure in the barrel quickly and thus maximize press oil out. Oil output rate is greatly improved for the unique design of the oil guide groove in the barrel. It helps separate oil and cake rapidly to avoid oil absorbed by dry meals. This model oil press machine is easy to operate and repair, performs reliably, and is capable of processing a wide range of plant seeds, for example corn, rapeseed, cotton seed, sesame seed, peanut kernels, soybeans, sunflowers, jatropha, linseed and other vegetable oil plants.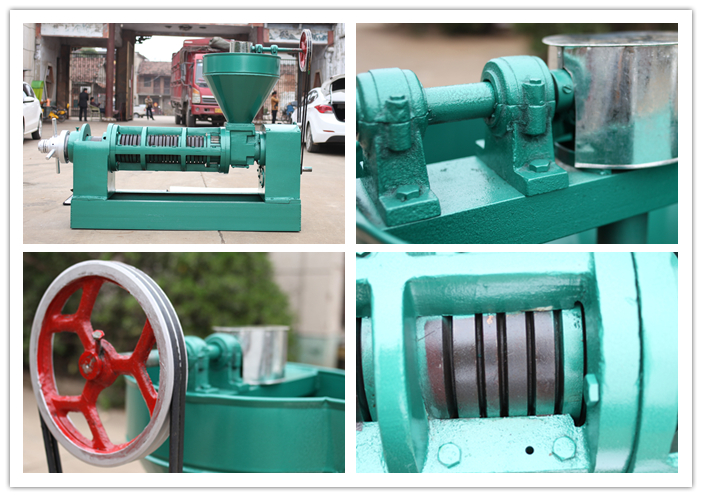 Structure of 6YL-120 oil press Machine
YZS-100 oil press machine is a screw-driven oil making machine that mainly composed of feeder, gear box, pressing cage, screw shaft and the machine stand.
6YL-120 oil press operating principle:
1.When oil press is on work, material enters the extruding chamber from the hopper and then moves forwards by the rotating pressing screw and is pressed.
2. Under high temperature condition in the chamber, there is quite strong friction among press screw, chamber and the oil materials.
3. On the other hand, root diameter of the pressing screw carries larger from one end to the other.
4. Hence when rotating, the thread not only pushes particles moving forwards but also turns them outwards as well.
5. Meanwhile, particles adjacent the screw will rotate along with screw's rotating, causing every particle inside the chamber to possess different speed.
6. Therefore, relative movement among particles creates neat which is necessary during manufacturing because of helping protein change property, damage colloid, increase plasticity, decrease oil's elasticity, resulting in high oil.
Oil Output Rate and Cake Residual Oil Rate for Different Material
| Raw Material | 24 Hours Processing Quantity(KG) | Oil Output Rate(%) | Cake Residual Oil Rate(%) |
| --- | --- | --- | --- |
| Peanut | 4000-5000 | 30-35 | 8 |
| Soybean | 4500-5000 | 10-14 | 6.5-8 |
| Sesame | 3500-4500 | 44-47 | 6.5-9 |
All kinds of plant oil materials such as peanut, soybean, rapeseed, cottonseed, sesame, olive, sunflower, coconut,etc.
Main advantage of screw oil press machine:
1. High oil yield, small space occupied and low expense on equipment and electriciy.
2. Multi-functional used for pressing various of oil crops.
3. Simple operation and stable production performance.
4. Various machine models for options according to the capacity.
5. Widely used by small workshop and factories and hot selling at home and abroad.
We assure the most precise design, high quality 6YL-120 Oil Press Machine, mature project installation, and perfect after sale services.