What's refining?
It's necessary to ensure edible oil is safe enough for eating,so we need to refine crude oil to make that reach the food standards and could be sold in the market.
Crude oil does exists impurities,which not only affects the edible value and safe storage of oils and fats, but also brings difficulties to deep processing. However the purpose of refining is not to remove all impurities in oil, but to remove impurities in oil which has bad effect on eating, storage and industrial production. For example, protein, phospholipid, mucus, water and so on all need to be removed, while beneficial "impurities" such as tocopherol should be preserved.
Therefore, according to the different requirements and uses, remove the unwanted and harmful impurities from the oil to obtain refined oil that meets certain quality standards, which is the purpose of oil refining.
What are the technical processes included in refining?
Here's five main processes: degumming, deacidification, decolorization, deodorization and dewaxing.
The process flow chart of the refining oil equipment is as follows: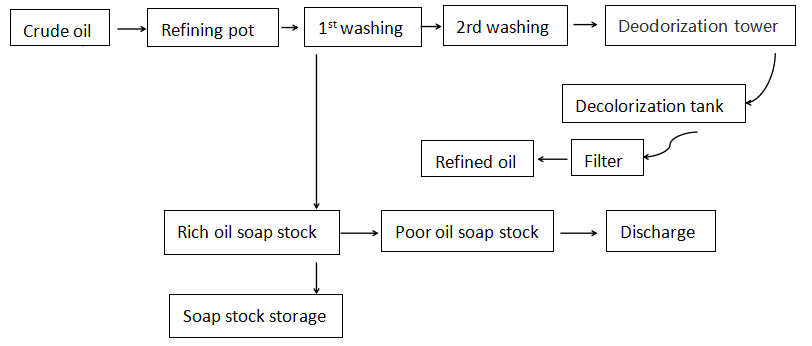 Degumming:
Remove the gelatin (mainly phospholipid) in crude oil. The degumming technology mainly adopts the hydrated degumming method.
Specificall,On the basis of hydrophilic properties of phospholipid and some other colloidal impurities , add a certain amount of water or electrolyte dilute solution into the crude oil in order that the colloidal impurities in the oil are swollen, condensed and separated.
Deacidification.:
It is the removal of free fatty acids from crude oil. This is the most critical stage in the whole process of refining. There are many ways to remove acid. But the most widely used method is alkali refining, that is, using alkali to neutralize free fatty acids, so that free fatty acids can separate soap stock from oil.